Status:
Completed
Completed On:
Aug 2020
Start Date:
Apr 2020
Cost:
$63,361.00
Construction of Bathrooms for Students and Staff and Hand Washing Sink at Dareda Kati Primary School
Without proper toilets, diseases can spread rapidly.
Toilets at school are built over a deep hole in the ground. The lack of a safe sanitation system exposures children and school staff to harmful microorganisms. Flies attracted by the stinky toilets can also carry infectious diseases. As there is no water for cleansing or handwashing, children clean themselves with sand or wipe their hands on the grass. When returning to class, they spread diseases that could be easily preventable, such as diarrhea. Anaemia and malnutrition are also related to intestinal parasitic infections.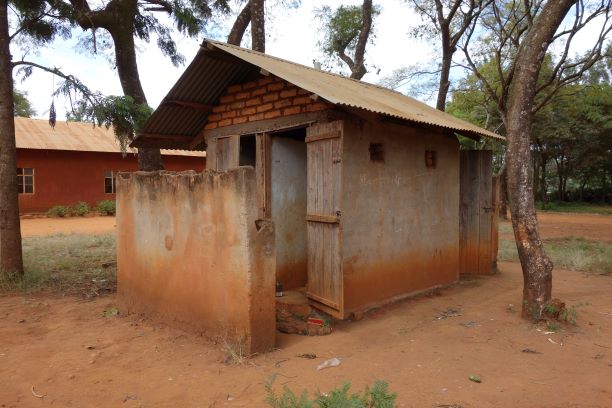 Sick children miss class. They stay behind and get bad grades in school. A safe sanitation system with access to water for cleansing and handwashing is essential for health and education. In partnership with Mary's Mercy Foundation, Karimu constructed flush toilets with faucets for cleaning and handwashing for students and school staff. The design includes appropriate facilities for menstrual hygiene management, so that girls are encouraged to stay in school and have equal educational opportunities.
To assure the sustainability of the project, the school is responsible for the proper operation and maintenance of the toilet facilities. This includes the proper daily cleaning of bathroom facilities, provision of soap and cleaning material, teaching of proper use of flushing toilets at least once a year, regular training on best hygiene practices and provision of menstrual pads to all the girls at school.
The project encompasses:
Construction of girls' bathrooms


19 stalls with flush toilets and faucets cleaning, plus 2 stalls for disabled kids

Faucets for hand washing

Mirrors

Private, outside area to wash and dry clothes

Flexible water hose for personal hygiene in some of the stalls

Private room with access to menstrual pads, toilet, and shower

Incinerator


Educational and hygiene material painted on the walls


Construction of boys' bathrooms

13 stalls with flush toilets and faucets for cleaning, plus 2 stalls for disabled kids

Urinals


Faucets for hand washing

Mirrors

Educational and hygiene material painted on the walls

Construction of staff toilets (so adults and children are not sharing the same bathroom) with separate sections for female and male teachers - each section with sink for handwashing, mirrors, and stalls with flush toilets and faucets for hand washing


Septic tank to keep the environment clean

Construction of large sink with faucets for hand-washing

Expected benefits:
Higher school attendance and enrolllment

Improved performance on national exam

Increase of school retention rate for girls

Reduction of disease and increase of menstrual hygiene

Empowerment of girls
Learn more about Karimu Education Program .