Status:
Ongoing
Expected Completion On:
Dec 2022
Start Date:
Mar 2021
Cost:
$20,000
Financial Assistance to Savings Groups
Karimu's Financial Services Program aims to strengthen the financial security of the communities we serve by increasing interest in, access to, and use of financial services using savings groups and increasing access to capital for loans so households have greater access to loans when needed. A challenge with the savings groups is that they lack sufficient savings to provide loans to all those in need. We want to provide access to additional capital through our Financial Assistance Program for qualifying savings groups.
To be qualified for the Financial Assistance Program a savings groups must
meet the following criteria:
1 - They are registered with the government.
2 - They have completed the Karimu Village Savings and Loan Association training program.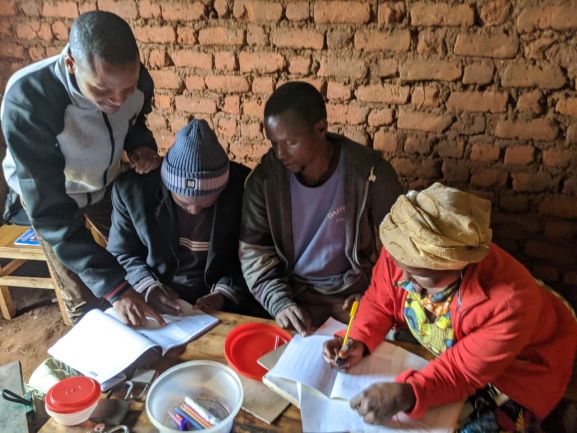 3 - They have no outstanding loans from Karimu or other financial or government institutions.
4 - All prior loans were repaid in full and they did not default on any loans.
5 - They have been assessed within the last 3 months as operating at 80% or higher (see assessment criteria below).
6 - They have a bank account through which they will receive the assistance funds.
7 - They have the sponsorship of the ward executive officer.
8 - They agree to repay the funds in monthly payments over 6-12 months.
The Karimu Village Savings and Loan Association training program is designed to graduate effective and efficient savings groups with transparent operations. To assess each group, we are using a tool recommended to us by our microfinance consultant that evaluates group effectiveness across 16 areas and produces a score between 0 and 100. These areas are:
1 - Attendance - Meetings should have 80% or higher attendance
2 - Security of the money and records - Group funds and records are secured in a lock box with 3 locks whose keys are held by different non-management committee members. Funds may also be secured in a financial institution.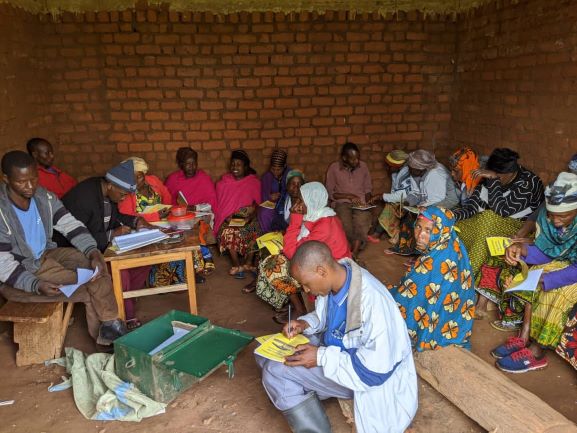 3 - Recall of the balance in the social fund and loan fund by members - Members are encouraged to remember balances between meetings as they should not change and this builds trust and transparency.
4 - Orderly savings process - Members purchase shares one at a time with all transactions in the open.
5 - Savings passbook management - Each member sees and confirms that the correct number of purchased shares are marked accurately in their passbook.
6 - Orderly loan repayment - Members with outstanding loans make their payments in full and on time. Late payments are handled according to the written constitution.
7 - Orderly and participatory loan process - Members request loans and loans are discussed, prioritized, and approved by the members according to their constitution.
8 - Loan passbook management - Each member sees their loan or loan payment accurately recorded in their passbook.
9 - Orderly meetings - The meetings are conducted in a systematic and orderly fashion.
10 - Ending balance - The secretary announces the ending social fund and loan fund balances at the end of the meeting and members are encouraged to remember these numbers.
11 - Use of passbooks versus ledgers - Passbooks are used as the primary records to support clarity and transparency allowing each member to review their shares, loans, and loan payments at each meeting.
12 - Chairperson Effectiveness - The chairperson runs the meeting in an orderly fashion, collects fines according to their constitution, and encourages the active participation of all members.
13 - Secretary effectiveness - The secretary runs the savings and loan portions of the meeting in an orderly fashion and records transactions in the ledger.
14 - Money counters - The money counters confirm the amounts given and handle the money in full sight of the membership at all times. They mark the passbooks correctly and within the clear view of the member.
15 - Constitution adherence - The group has a written constitution that is updated annually. Members display knowledge of their constitution and adhere to it. Election of new officers are held with each new savings cycle.
16 - Member participation - The group members are actively engaged in all aspects of the meeting.
The Financial Assistance Program is a stop gap measure to provide access to capital until a Village Savings and Loan Federation can be established to provide this function for savings groups. See our Financial Services Program for more detail.
After introducing this program in late February 2021 we have provided financial assistance to all 6 of our graduated groups. Each group received between $850 and $2500 for up to 6 months at zero interest. All monthly payments have been on time and all groups fully repaid their loans. We are now on the second round of loans.
Expected benefits:
Increased investment in small businesses

Increased household income

Greater financial security through crises
Cost: $20,000