Yasinta Sumawe taught the manager of Karimu's employees in Tanzania, Shau Erro Ae, when Shau was studying in Standards 6 and 7, equivalent to sixth and seventh grades in the United States. That was fifteen years ago. Yasinta is now a year short of Tanzania's mandatory retirement age, set at sixty in a nation whose employers must make room for an explosion of younger workers.

Karimu offers financial support to a number of teachers in Ayalagaya and Arri Wards as they study for their Bachelor's degrees. But four decades ago a schoolteacher with a university degree would have been unheard of in rural Tanzania. The country's teacher shortage was so drastic that the central government would select the strongest primary school students and send them directly to teacher colleges.
Yasinta went from primary school to Singachini Teachers Training College, in Moshi, a hundred and fifty miles northeast of her home near Ayalagaya and Arri Wards. Then she went back home, now certified to teach children even though she was barely more than a child herself. She recalls that "in those days life was difficult for the students and teachers."
The government opened Ufani Primary School in 1989. Karimu's work would begin there almost twenty years later, when co-founders Marianne Kent-Stoll and Don Stoll saw that the school's two-hundred-plus students had access to only one toilet: a hole dug in the ground, with a feeble excuse for privacy given by the hides and blankets draped on a shaky frame improvised from branches. "In 1989 I was the only teacher at Ufani!"
She also became only the second teacher at Bacho Primary School, where she would teach Shau.

"In the beginning there was only one classroom and no office for the teachers. There were also no desks for the students, and not even real benches. For benches they just had boards laid across the tops of piles of bricks. But getting the piles of bricks to be even with one another was hard because we had dirt floors. And for a time there were too many students for the number of classrooms. The students had to come to school in morning and afternoon shifts, so they only got half the amount of time in school that they needed. Eventually there were seven classrooms but they were not beautiful."
She pauses to make a face. "The people from Karimu must remember how bad it was. It's why Karimu rebuilt Bacho Primary. The windows had no glass and they were small, so without electricity the classrooms were dark. It was tough to teach but we had no option. And water was a big problem. To get clean water the students had to climb the mountain right behind the school, and bring it down in buckets."
Bacho Primary School was in terrible condition when Karimu first visited. But the school's good fortune was to have been built at the foot of the Rift Valley escarpment. Fresh water was readily available for Karimu to pipe down the slope. It paid Tanzanian workers to lay the pipes in 2014. "Now the school has a beautiful farm of banana trees."
Yasinta has four sons and four daughters. One child has attended Sokoine University of Agriculture but the youngest still attends Bacho Primary. This means that the youngest — Tanzanians say "last-born"— has the daily opportunity, as Yasinta herself does, to appreciate the astonishing transformation that came with the Karimu-funded reconstruction, in 2017.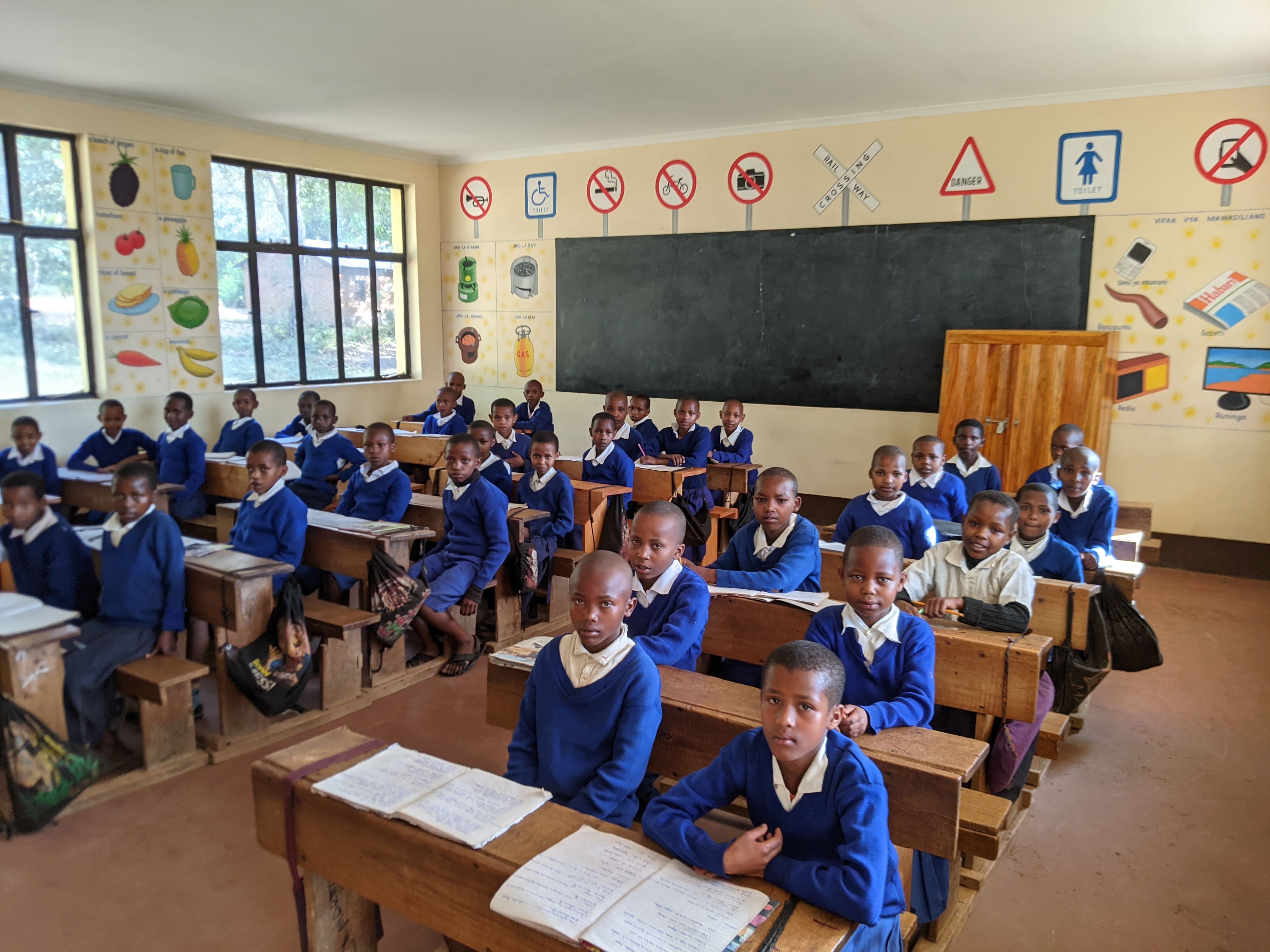 Perhaps Yasinta's last-born would say of the new Bacho Primary School, as her mother does, "I feel like I'm in Europe!"