Categories:
Income

Education
Training
Health and Sanitation

Training
Status:
Completed
Completed On:
Jun 2019
Start Date:
Jun 2018
Cost:
$1,450.00
First Aid Training
Teachers often play the role of nurses or doctors in remote areas of Tanzania.
If you were to walk from most tanzanian, rural schools to the nearest health center, it would take you more than an hour under healthy conditions. Imagine having to walk such a distance with a broken leg, a bleeding head, or, even worse, if you passed out. Because walking is the main form of transportation, it will take hours for most students having an accident at school to reach the clinic.
For this reason, it is critical that every rural school in Tanzania has teachers trained to provide first aid to their students and schools are well equipped with the necessary medical supplies.
In the first phase (2018), Karimu volunteers with medical background provided extensive first aid training to two teachers from all schools from the wards of Ayalagaya, Arri, and Secheda. Each of the 23 schools received a first aid kit containing all the supplies necessary to take care of the most common school accidents.
In the second phase (2019), two teachers of all 15 schools in Ayalagaya and Arri received first aid training to know how to deal with the most common accidents at school. As most students would have to walk long distances to get medical attention after an accident, this year's training focused on 1st aid in remote areas and wilderness. The teachers had a lot of fun "practicing" on each other. We have also restocked the first aid kit they received last year as it is very important that the schools are equipped with the necessary medical supplies.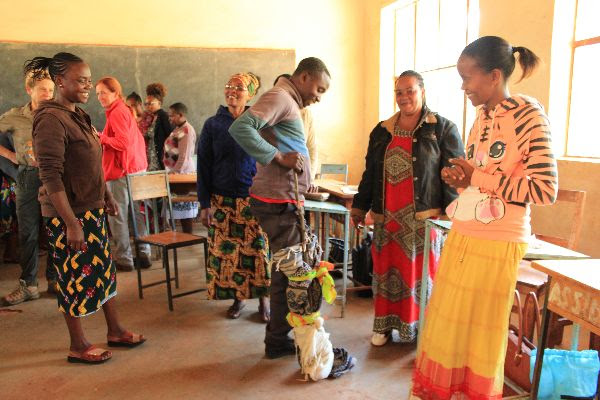 Benefits:
Improved readiness in case of emergencies and accidents at school
Cost: In addition to Karimu's cost of $1,450.00, Karimu volunteers donated all the supplies in the first aid kits, paid for the workshop material, and covered their travel costs to Tanzania.
Learn more about Karimu Health Program .