Status:
Ongoing
Start Date:
Dec 2021
Student Hygiene Education
An investment in student and family health
According to UNICEF, in Tanzania, water, sanitation and hygiene (WASH) sensitive indicators such as diarrhea and stunting are high. Campaigns to encourage simple hygiene practices like washing hands with soap can reduce the incidence of diarrhea by an estimated 47 per cent while use of proper sanitation can reduce cases of diarrhea by an estimated 36 per cent. It is estimated that Tanzania spends 70 percent of its health budget on preventable WASH-related diseases as the majority of the population does not have access to improved sanitation, and close to half of the population does not have access to clean drinking water.
Following Karimu's first project in 2008, the construction of new bathrooms at Ufani Primary School, volunteers have created and funded projects around hygiene including annual midwives and teacher training on basic hygiene and first aid practices and providing soap and other support materials to facilitate this practice. Lessons for children on germs and how they can spread were also conducted during in-country trips. What became apparent was the need for a large-scale behavior change around handwashing. This opportunity came with the availability of on-site water at schools resulting from the 2018 Ayalagaya Water Project.
Karimu began building school bathrooms. The new bathrooms have urinals (for boys), flushable squat toilets, flushable sit toilets, facilities for managing menstrual cycles (for girls), and indoor and outdoor sinks with running water. For some children, this is the first time seeing flush toilets and washing sinks. It became apparent, early on, that students needed to be taught how to use these facilities. Karimu created a comprehensive hygiene training program that was implemented to support and expand the necessary hygiene behavior changes.
In 2019, with the threat of Covid-19, handwashing became even more critical to the areas in which Karimu works. Karimu's response extended to Arri Ward. Schools without handwashing sinks were provided with water tanks, soap and buckets. Posters and infographics were in every classroom and teachers reviewed how and when students should wash their hands. In addition, every household was given soap and corresponding instructions on handwashing. Students were able to practice handwashing skills at home and teach their family members at the same time.
Over time, in consultation with the teachers and local medical staff, the hygiene program has grown. It is now also taught in Arri schools. This curriculum continues to evolve as need or opportunity arises. All content is reviewed by the teachers and their input incorporated. In addition, bright, colorful murals are painted on the walls to illustrate and reinforce key messages.
Currently, the training consists of :
How and when to wash hands properly and why it is important
How to use the squat toilets, sit toilets, and urinals (boys only)
How to use facilities for girls' menstrual cycles and how to make reusable menstrual pads (girls only)
Importance of HPV vaccinations for girls
Signs, symptoms, and prevention of COVID-19
How to properly change a baby's diaper, dispose of waste, and when to alert parents
How to properly use the shower at the Ayalagaya hostels
How to use the incinerators in the girls' bathrooms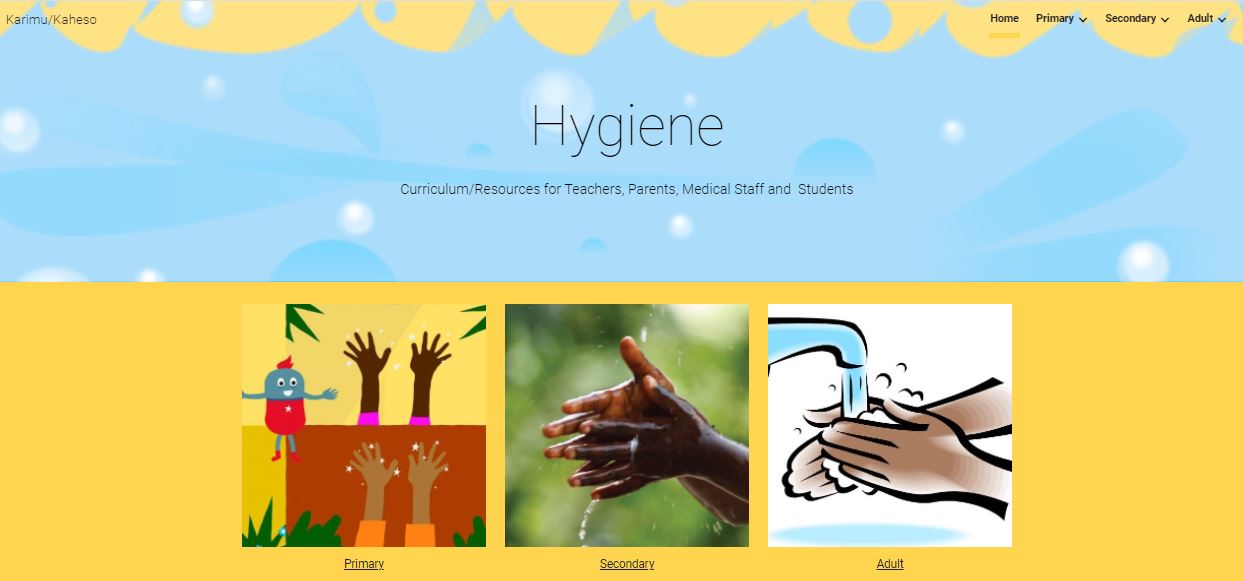 Every school commits to the cleaning and maintenance of the bathrooms, providing soap and menstrual pads, and annual hygiene training for all students as a condition of the bathroom construction.
Karimu tracks this annual education on the Karimu School Dashboard. All schools continue to deliver the hygiene curriculum, and student attendance and performance are high. In addition, our first visit since the onset of the pandemic revealed tremendous success. Children were washing their hands regularly without being reminded and bathrooms were clean and well-maintained.
Expected Benefits:
Healthier students and families
Increased school attendance of students and teachers due to less illness
Acquisition of positive hygiene behaviors
Longevity of bathroom construction investment
Learn more about Karimu Health Program .